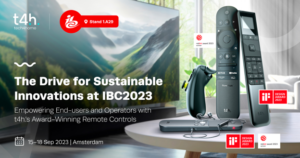 The Drive for Sustainable Innovations at IBC 2023 – Empowering End-users and PayTV Operators with t4h.'s Award-Winning Remote Controls
t4h is revolutionizing sustainability & innovation and placing them directly in the hands of modern-day end-users
João da Madeira, 13 September 2023 – t4h. (Tech4home), a leading provider of remote controls for the home entertainment industry and trusted partner for PayTV operators worldwide, is thrilled to announce its participation in IBC 2023 in Amsterdam!
Gone are the days when end-users were seeking just design or price when choosing their service providers— the modern-day users prioritize environmental responsibility. As the demand for sustainability in the industry continues to grow, t4h. remote controls offer a range of sustainable solutions for PayTV operators and uniquely designed devices tailored to modern living rooms.
With a commitment to meeting PayTV operators' requirements across all platforms, t4h. remote controls ensure seamless compatibility. All remotes are compliant and fully pre-integrated for RDK and AndroidTV, as well as compatible with Linux and native systems delivering a complete package.
Ultimate Control for a Better Future
t4h. will emphasize its dedication to sustainability, showcasing award-winning designs and high-tech remote controls that utilize 100% recyclable or bio-based materials. Visitors to the t4h. stand at IBC 2023 will have the chance to hold the remote controls of the future – with no rubber, inks, and harmful coatings. The latest remote control families are  harnessing the sun's power for ultimate sustainability and user experience, through innovative foils or photovoltaic panels.
"We envision the future of remote controls and our company's trajectory firmly rooted in sustainability and innovation. We strive to do and be better, leaving no detail unimproved, recognizing that even the smallest advancements can make a significant impact."
– Graça Candido, Co-Founder and Commercial Director, t4h.
The Art of Design Excellence
t4h.'s is excited to showcase the immense potential for innovation and exciting new design opportunities when sustainability is at the core.
The company's dedication to design excellence has been recognized with numerous prestigious awards, including the seventh consecutive Red Dot Design Award in 2023 for the AVE and KASAI remote controls, showing that design is not an afterthought but rather a key component of t4h.'s remote controls.  The KASAI and DRAVA remote controls have been honored with the IF Design Award, joining the big award-winner family of t4h.
"At t4h, we believe in pushing the boundaries of what's possible and nurturing the symbiotic relationship between technological advancements and environmental responsibility. Our remote controls represent the seamless fusion of innovation, sustainability, and captivating aesthetics, demonstrating our dedication to delivering exceptional products that resonate with both end-users and the industry at large."  – Márcio Barata, Product Director, t4h.
The Game-changers Beyond TV
The IBC 2023 visitors will have the chance to explore t4h.'s impressive lineup that goes beyond remote controls, including the highly anticipated TIMOK game controller designed
exclusively for AndroidTV gaming. This cutting-edge controller delivers an unparalleled gaming experience that will captivate and thrill subscribers. Its sleek design, precision engineering, and emphasis on user comfort ensure that players can enjoy extended gameplay sessions without discomfort or fatigue.
t4h. (Tech4home) will also present their groundbreaking DRAVA remote control, leading the way in effortless interaction with a variety of in-house devices such as Set-Top Boxes, TVs, and Soundbars. With a focus on sustainability and OLED display, the DRAVA remote control is crafted from recycled and recyclable aluminum and plastics, embodying a design language that embraces both rationality and timelessness.
Visit t4h. at IBC 2023 to witness firsthand how they are revolutionizing the industry through sustainable design and innovation. Make sure to stop by in Hall 1, stand A29 and hold the future of remote controls in your hands.
About t4h. (Tech4home)
t4h. (Tech4home) is a key player in remote control devices and technologies that designs, develops and delivers intuitive and innovative integrated wireless remote control solutions, with cutting-edge design and a state-of-the-art user experience. With more than 20 years' experience in the remote control business, t4h. leads the industry in providing products and solutions that meet the ever-evolving needs of worldwide IPTV, cable, and satellite pay-TV providers. RF technologies, such as BLE, BT, RF4CE, Wi-Fi, and IR, voice search, audio, motion, TV operation are among the many features t4h. can integrate in their customisable remote control solutions.
Press Contact:
Slaveya Tuzsuzova
E. st@beinvictus.agency
www.tech4home.com