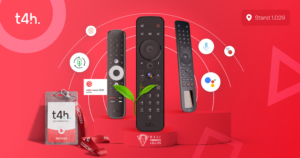 t4h. showcasing the creative side of sustainable RCU innovations at IBC2022
t4h. showcasing the creative side of sustainable RCU innovations at IBC2022
t4h. launches their new sustainability initiative – the Symbiosis Programme, focusing on unique and sustainable innovations, utilizing recycled plastics, bioplastics and solar charging for new generation Remote Controls.
 João da Madeira, 09.September 2022 – t4h. (Tech4home), a leading remote control design specialist and manufacturer, will be exhibiting at IBC2022, which will take place from the 9th to the 12th of September 2022 at the RAI Amsterdam. The company's team will be at stand 1.D29 (hall 1), prepared to meet with clients, leaders, and partners in the industry. They will present their latest sustainable innovations, achievements, and technologies —and all they have worked on over the past two years. Tech4home would also love to engage with everyone, unlock new business opportunities, and discover the latest inventions.
To take their sustainability commitment to a whole new level, t4h. has launched a new initiative – the Symbiosis Programme, which is the successor of their Green22 Inititiative and Innovation Lab. This concept combines the design team's mindfulness of the footprint they leave and the goal to create only cutting-edge RCU technologies. They are aiming to break the narrative that sustainability restricts creativity. The team will share their progress with this innovation at the  t4h. stand at IBC2022.
"Tech4home's new initiative confirms that we are still a leader in the RCU technology industry and will never stop building user-centered products. We have a lot to share with the partners, leaders, and innovators in this industry, and this event is a suitable platform to reach out and get feedback on our innovations."
Miguel Oliveira, CEO, t4h.
At the event, the company will reveal their latest remote design award winners – the DRAVA and AKAN remote models that have brought Red Dot Design Award for t4h the sixth consecutive time, the LIMA RCU, awarded with a Muse Design Award, and the Notus RCU Custom Covers awarded with the Silver Muse Design Award.
t4h. will also display its latest Android TV Line-up with state-of-art RCUs, aligning with Google's Android TV Operator Tier guidelines and meeting the expectations of modern end users.
The company and its team would love to welcome everyone interested in supporting the sustainable world vision to the t4h. Stand at IBC2022. For more information about the exhibition, contact sales@tech4home.com.

About t4h. (Tech4home)
t4h. (Tech4home) is a key player in remote control devices and technologies that designs, develops and delivers intuitive and innovative integrated wireless remote control solutions, with cutting-edge design and a state-of-the-art user experience. With more than 20 years' experience in the remote control business, t4h. leads the industry in providing products and solutions that meet the ever-evolving needs of worldwide IPTV, cable, and satellite pay-TV providers. RF technologies, such as BLE, BT, RF4CE, Wi-Fi, and IR, voice search, audio, motion, TV operation are among the many features t4h. can integrate in their customisable remote control solutions.