CTAM Europe Symposium 2020
Successfully traversing this Decade's streaming content landscape.
Date to be advised (rescheduled from 3rd April  2020 – due to Covid-19 Pandemic)
Now in its 2nd year, CTAM Europe Symposium is the UK's foremost media event bringing together Industry Leaders across Telecommunication brands, Streaming services, Content owners & Distributors, and Technology companies for one day in Central London to discuss how we are powering growth in the face of disruption.
At the dawn of a new Decade and in the midst of great change and transformation, it is vital that our Industry considers our direction and our purpose.  What has the industry learned? What do we want to achieve? Which brands are leading the way?
How will the new AVOD, SVOD and 'Streamers' find profitable business plans in such a highly competitive market, and when might 'Subscription Fatigue' set in? Our objective is to answer the important questions: what will be done, what won't be done and what could the results look like?
Join us in London on 3rd April to find out!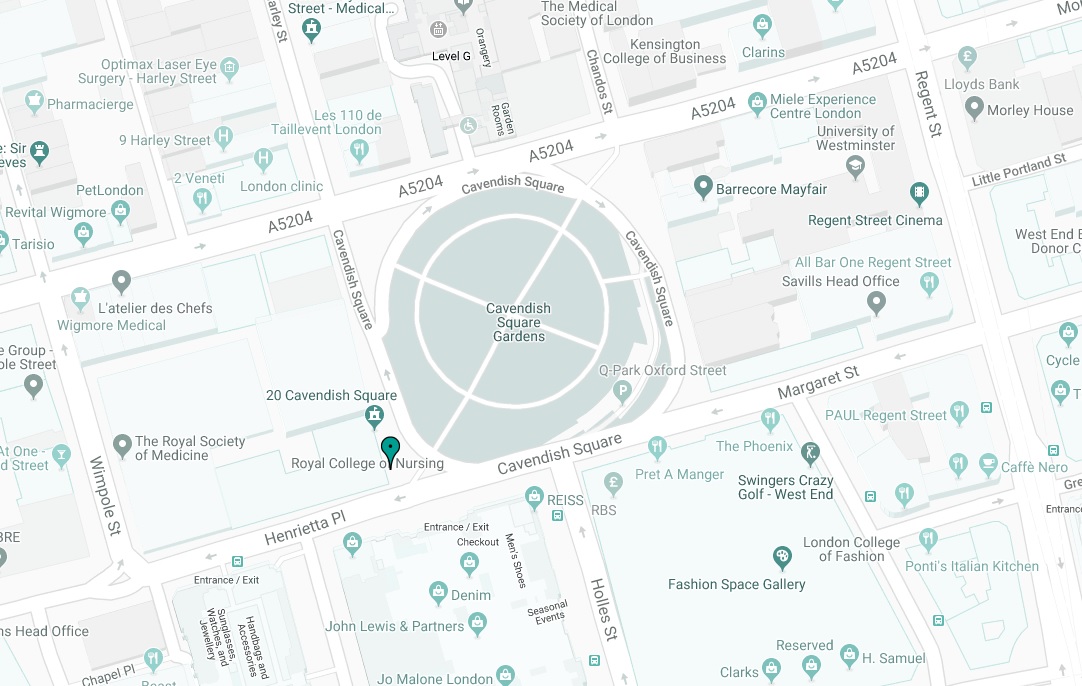 20 Cavendish Square Conference Venue
As the Coronavirus (COVID-19) situation has meant that some events around Europe have recently cancelled, we would like to announce that we are still planning on the Symposium & Networking Event happening in Mayfair, London on 3rd April 2020.
The UK government and World Health Organisation have announced guidelines for large scale events, which include:
Handwash, Hand sanitiser and gel to be available to attendees.
Thorough cleaning of public spaces within the venue
All Audio visual which is shared between speakers to be disinfected between use
They are also recommending delegates/attendees at events take precautionary measures for hygiene, including:
Wash your hands frequently
Use hand sanitiser/gel regularly
Refrain from shaking hands with attendees
If you have any symptoms (see below) of Coronavirus (COVID-19) do not attend any events, and contact 111 immediately.
If you have visited one of the high risk countries, please do not attend any events, and contact 111 immediately.  More information HERE


Symptoms of coronavirus:

a cough
a high temperature
shortness of breath

But these symptoms do not necessarily mean you have the illness.  The symptoms are similar to other illnesses that are much more common, such as cold and flu.
CTAM Europe's Co-Chairs Louise Cottrell and Lukas Kernell, and the Board of Directors are looking forward to seeing you in London on April 3rd.
If you have any questions, please email info@ctameurope.com
Agenda (NB: Speakers to be added as they confirm)
Registration and Arrival Refreshments
Your first opportunity to network with your peers.
An introduction to CTAM Europe and Symposium 2020
Speakers:
Louise Cottrell, VP Affiliate Partnerships, AMC Networks International and Co-Chair, CTAM Europe

Lukas Kernell, VP Content, Liberty Global and Co-Chair, CTAM Europe
Necessary Enablers:
How will infrastructure cope with the growth of all planned services in the home entertainment sector and what might be required from a network, platform, technology and security perspective.
Topics to include:
Increased consumption in the transition from linear to on-demand,

Migration from live broadcast to (near) live IP, with mobile (apps) adding another delivery platform for video snacking

Moving from HD, past 4K into 8K content
Speakers:
Phil Oakley, Director Access Engineering, Virgin Media

Stefan De Beule, RVP Solution Architecture, CommScope
A Fireside Chat with Guy Bisson.
How To Flourish in the Converged world – Delivering sustainable revenues in an age of Transformed Business Models:
Traditional value chains in the Media Industry have been broken and all business concepts are being redefined.
Channels are no longer linear broadcast products, production is no longer focused on the big screen, and TV advertising encompasses a gamut of screens, data panels and currencies.  Whilst a new Value Chain emerges organically, both traditional and digital media companies are scrambling to secure their future place in that chain.
The panel will focus on Media Companies' transition from their original commercial models to the new ones, more suited for the converged world. The challenges they've encountered, opportunities they've taken and lessons they've learned.   We will also discuss future plans to ensure sustainable profitability of their businesses.
Moderator:
Panellists:
Wim Ponnet, Chief Strategy and Commercial Officer, Endemol Shine Group
Alex Morris, Chief Creative Officer, Barcroft Studios 
An audience with Annet Aris, Senior Affiliate Professor of Strategy, INSEAD.
Discussing Modelling, Finances & Sustainability in a New Universe.
Annet Aris, Senior Affiliate Professor of Strategy, INSEAD.
In discussion with Kate Bulkley, Journalist & Presenter
Free Your Mind with AVOD (The A Side)
Why will AVOD brands be pressing the accelerator hard in 2020?
With at least 2 new services launching imminently what can we expect from Free vs Pay in the streaming world?
Moderator:
Manori Rivandrum – International Editor, Variety
Speakers:
Tanya Guggenheim, SVP Business Development, AMC Networks International
The B Side:
Paid Streaming Options across EMEA – Inform your Strategy, Product Development, Ethics and Activation & how to avoid Subscription Fatigue
Moderator:
Speakers:
Dan Fahy, Vice President, Commercial and Content Distribution, Viacom
Speakers:
Louise Cottrell, VP Affiliate Partnerships, AMC Networks International and Co-Chair, CTAM Europe

Lukas Kernell, VP Content, Liberty Global and Co-Chair, CTAM Europe
Symposium Fees
Registration via below link. Invoices will be sent directly from CTAM Europe,
Symposium Registration fees:
Existing CTAM Europe Members – Free to attend

Non-members – CTAM Europe Registration is required (includes attendance to the Symposium).  6 months @ 149.00 EUR or 300.00 EUR 12 months membership.

Both memberships include Symposium registration
Payment Information:

Invoices will be emailed directly from CTAM Europe, by Credit Card/PayPal.  Registration is via Eventbrite.
Additional information:

Membership fees are inclusive of:  6 Month or 12 Months CTAM Europe Membership and attendance to Symposium'20;

Networking coffee breaks, lunch and post-symposium drinks.

Accommodation:
If you need accommodation, please email Amethyst Events: enquiries@amethystevents.com
Please note that there will be a Photographer and/or a Videographer at the event.  Any photos/videos will be used to for promotional activities.  The photos/videos may be used on the CTAM Europe website, for newsletters and for promoting the next Symposium/Event.   If you do not wish to be photographed or filmed please email info@ctameurope.com by Friday 20th March 2020.  If we do not hear from you, we will assume that you are in agreement with us taking photographs and/or videos for use in the future.
REGISTER
2020 Associate Members and Strategic Partners